Good evening!!
This is Aika Kimura reporting tonight!
「Kaisen Taishuu BAR UNARI」
The owner is a huge fish lover and the quality of the fish served here is guaranteed!!
I brought my friend who is a Sake producer xD
It is unbelievable! We have never seen such a huge Otoushi!!!!!
Trust me, its very special!!!!! You can compare this to other Otoushi from other articles we have reported!!!
Since we are five ppl, we ordered a bottle of Dorogame!
And! For sure Sashimi in this place!
Look at this thick slices!!!
They are super fresh too…!!!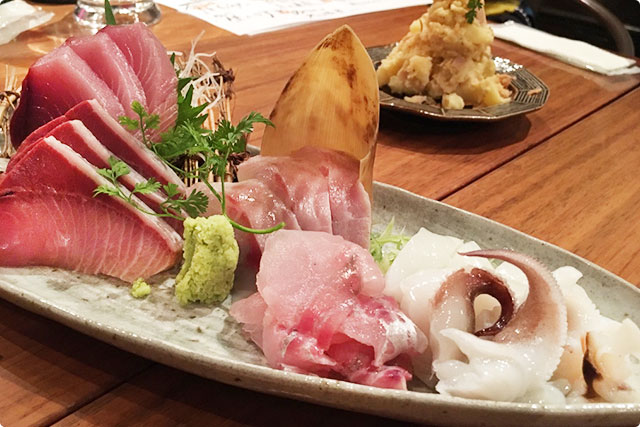 『Unari Sashimi plate』 for two ppl 1,280Yen
This dish was the best favorite of mine today!!!! I feel that I will even have this in my dream tonight…….
With Wasabi soy sauce, this is so light and crispy and I finished it at once!
They have 10 different Inari-sushi variations and we have chosen 3 for each.
We enjoyed them so much xD
And I have just noticed that we have finished two bottles of Dorogame- xD lol
Such a nice evening xD