Hello!
This is coiku reporting tonight!
I am a vegetarian, cross-cultural interpreter.
Today I am meeting my girlfriend who was my best friend in my highschool time. It has been more than10 years since I saw her last time.
I chose this place for both of us to enjoy the evening! I am vegetarian and my girl Yuko is a meat lover. Lol
Without looking at the menu, Yuko has ordered a bottle of red wine.
She has not changed at all in this sense since we were 23 when we were meeting every weekend!
Let's have a look at the menu!
I cannot decide when the choice is wildly open!
Please choose some dishes Yuko!
So Yuko picked all for us.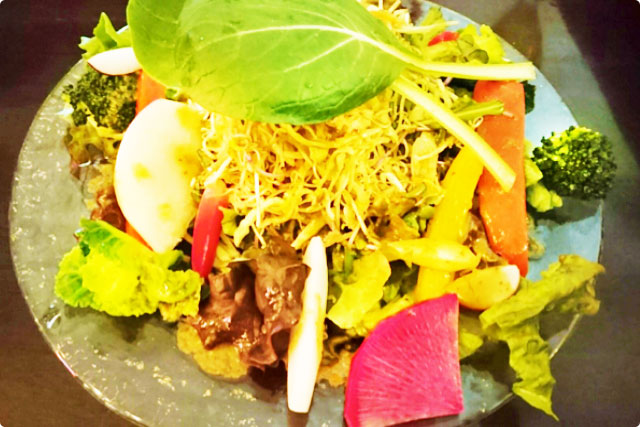 Bio vegetable salad
She said that this is all for me and she gave me the most potion.
All vegetables are lively! I wished to have 100 more of the broccoli and Yuko gave me all we got xD saying "You haven't changed at all over 10 years xD"
"Okay have this too, and this as well.." She gave me her tomato and many stuff so in the end she got only the leaves…
The second dish has arrived!
French fries with selected sauceYuko has asked for 2 sauces that the owner likes the most and these two came.
Its Bolognese and Gorgonzola.
Yuko commented "This potato is just like a gentle person. I don't feel oil somehow and it doesn't have anything aggressive, its like a person I can trust…" lol
She is very funny xD
But its true that we feel no oil even though it is fried. The potato is very soft and moist with nice aroma! The sauce was grate too even for me who usually do not enjoy cheese.
Very friendly and nice man!
She tried to convince me to have a bite for she thinks that the texture of the pork is very nice.
But since I am a vegetarian I cannot eat it so I had the vegetables xD The sauce was simple but very nice.
Then Yuko got a sweets in the end of the dinner as she is THE girl!
I was too curious and asked for a bite this time xD
The aroma of avocado was awesome! It was not as heavy as ordinarly cheese cake and I enjoyed it!!
And there was a cake I was even more interested…
How fascinating!!! I really wanted to taste it! But I had too much wine and I gave up….
Next time for sure! Coz this seems very very yummmmmmmm xD
And…. Additionally,
I loved the toilet here….. lol
I was dancing a bit alone here xD lol
Thank you so much for the grate dinner xD